As a stay at home mom, you may be looking for ways to make extra money while keeping your family as the priority. You don't have to sacrifice time with your kids or miss out on important events to bring in some extra cash. As a stay at home mom of many years, I've learned a few different way to earn income while homeschooling and staying home with my little one! There are plenty of ways that stay at home moms can make money from home, in this article will explore 10 of them.
Stay at home moms can make money by pursuing freelance writing or blogging, working as a virtual assistant, offering coaching/consulting services, selling products online, marketing brands and business online, becoming an influencer, selling info graphics, and starting a website.
There are plenty of opportunities for stay at home moms to make money and still have time for their families. With the right resources and dedication, stay at home moms can create successful businesses from the comfort of their own homes while still having time for family! Read on to find out more about how stay at home moms make money while taking care of your loved ones!
How Stay At Home Moms Make Money
Becoming a stay-at-home mom is a blissful decision, but it comes with its own set of challenges, especially when it comes to finances. You want to contribute to your family's finances while still being able to stay home and manage your household. Below we'll cover 10 ways to make money as a stay at home mom!
1. Freelance Writing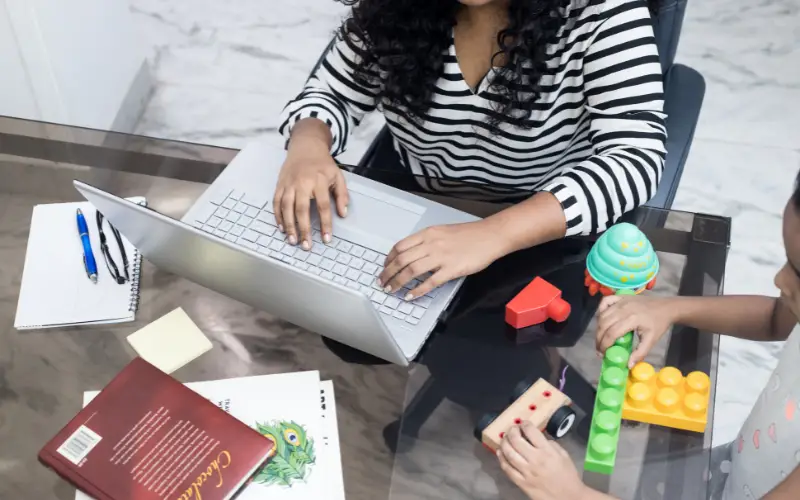 Freelance writing is a great option for anyone who has a passion for writing and wants to work from home. You can write for different niches and earn a decent income by selling your work. There are plenty of Facebook groups and businesses looking for content creators and writers to help promote and grow their brand. If you enjoy writing and are willing to dedicate at least an hour per day to writing and sometimes researching, freelance writing could be a great asset for you!
2.Blogging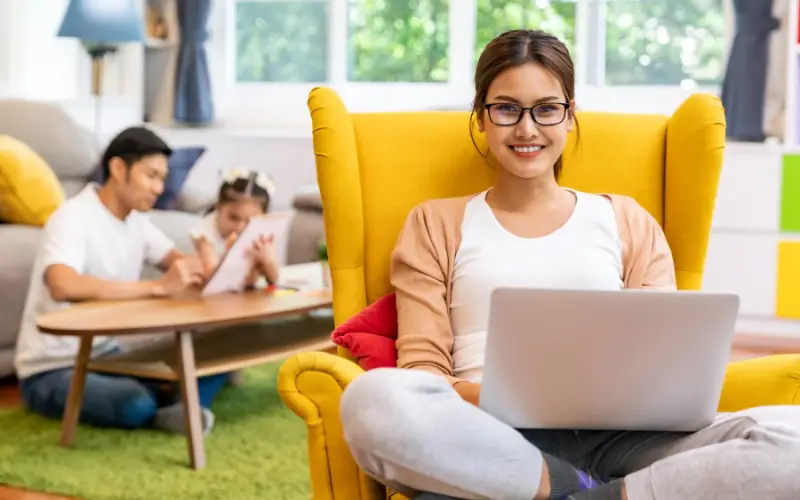 Blogging is an excellent way to monetize your writing skills. You can start your own blog and write about your passion or interest to make money from advertising, affiliate programs, and sponsored content.
Bloggers make a decent living by creating content for websites, social media, and even print publications. By utilizing their writing skills and knowledge of relevant topics, stay-at-home moms have the option to either work for themselves, or various clients around the world and earn a significant income, right from home.
Many stay-at-home moms, including myself, have taken this route, and they are now successful and earning a substantial income while still being able to stay home and raise their children.
Furthermore, this profession allows them to have flexibility in their schedules, enabling them to balance work and family responsibilities without compromising their time. With dedication and hard work, freelance writing and blogging can be a fulfilling and lucrative career for stay-at-home moms.
2. Working as a Virtual Assistant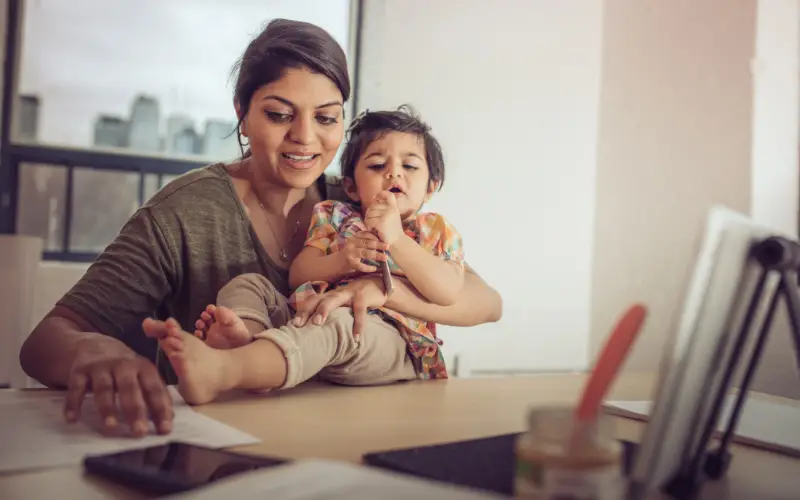 With the rise of technology, more and more mothers are being able to embrace the virtual world to find a career that suits them. One popular and flexible career choice for stay at home moms is becoming a virtual assistant.
Virtual assistant jobs are perfect for stay at home moms to make money, as they often require little or no experience. Virtual assistants provide services such as email management, customer service, data entry and more. The tasks of a virtual assistant typically includes scheduling appointments, managing emails, managing social media and online bookkeeping.
You can find virtual assistant jobs on job boards like Upwork and Indeed, as well as by pitching your services to small businesses and brand owners. Every job is different, so you'll need to choose the ones that best suit your skills and work schedule.
3. Offering Coaching/Consulting Services
As a stay-at-home mom, you're already a jack-of-all-trades, serving as cook, chauffeur, therapist, teacher, and more on a daily basis. All of these skills could translate into a lucrative coaching or consulting business! By offering guidance, advice, and support to others who may be struggling with similar challenges, stay-at-home moms can use their experience to build a profitable business from the comfort of their homes.
From helping other moms navigate their own parenting journeys to sharing tips on organization, time management, and home decor, coaching and consulting can be a flexible and rewarding career path for anyone looking to make money without sacrificing quality time with their families.
It could be as simple as routine phone calls and video meeting, or coffee dates and public speaking engagements, it all depends on the type of services you're offering, as well as your availability and goals. You can also offer bundle packages that include multiple sessions and provide additional value to your clients for a chance to make a steady monthly income.
4. Selling Products Online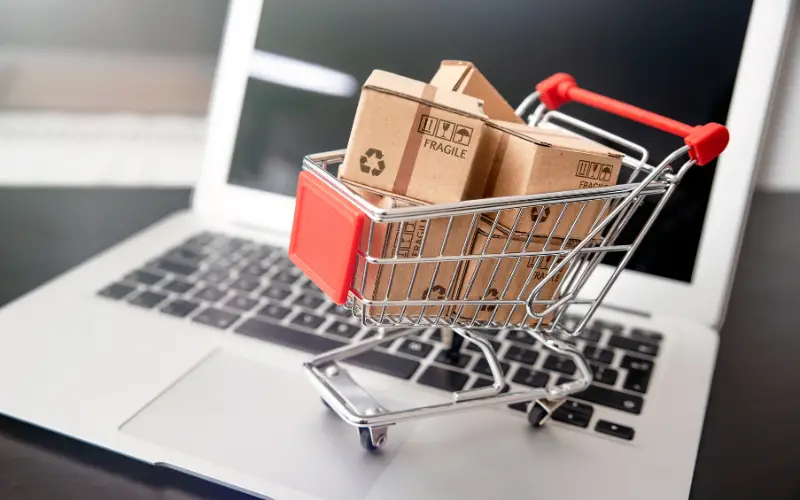 This is a mother way that I personally make money as a stay at home mom, aside from my blog at The Mom Resource, I also own an online store at Babes N' Beauty selling natural baby and beauty products that I make at home.
Thanks to the convenience of e-commerce platforms like WordPress, Squarespace,Etsy and Shopify, stay at home moms can easily sell products from the comfort of their own homes. Whether it's handmade crafts, personalized products, wholesale items, or pre-loved items, there is a market for everything. Selling products online not only provides additional income, but it also allows moms to explore their creativity and entrepreneurship. You can even sale gently used items on Facebook marketplace and offer up, which now offer shipping!
5. Affiliate Marketing Brands and Businesses Online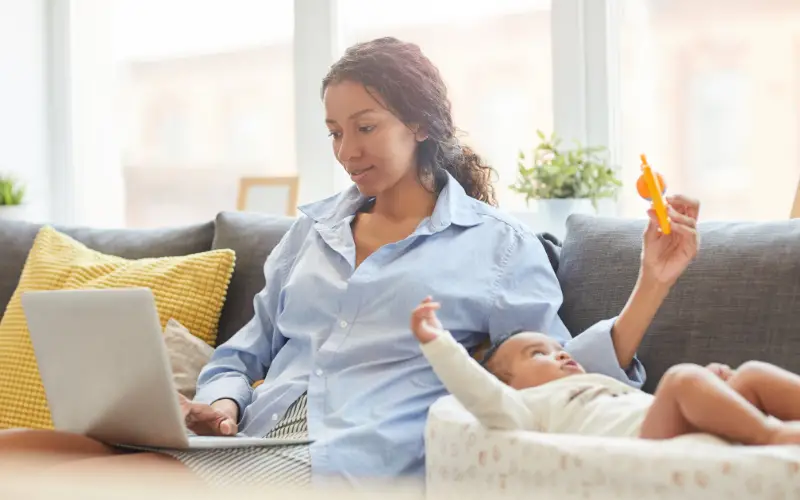 Stay at home moms can make money also by becoming an ambassador for companies and businesses. This involves partnering with brands and businesses online to promote their products and services to a wider audience, and earning a commission for each sale that is made through their unique affiliate link.
With the flexibility to work from home at their own pace, stay at home moms can leverage their social media channels, blogs, and email lists to build relationships with their followers and connect them with products and services they believe in.
This source of income requires more of a social presence, as well as a commitment to creating engaging content. However, when done correctly, overtime this can be an extremely profitable and easy way to make money while staying at home with your kids.
6. Becoming an Influencer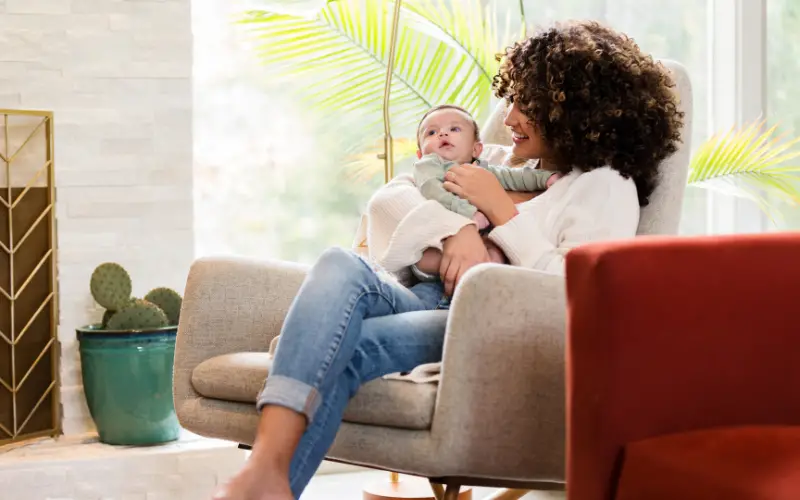 Many moms have turned to social media to monetize their passions and become influential content creators. By becoming an influencer, stay at home moms can use their follower base to endorse products and services of companies, leading to ambassadorships, collaborations , and sponsorships that serve as a source of income.
As a stay at home mom wanting to become an influencer, it's important to create an online presence. This means having a website and regularly engaging with your audience on social media. Mom influencers are very common and inspiring and they attract followers with their relatable lifestyles, parenting tips, cooking ideas, fashion sense and much more, which help to build a loyal community of engaged individuals.
By creating content that resonates with people, stay at home moms can build a strong following and generate an income through affiliate marketing, sponsored posts, and other monetization strategies. Additionally, the more content you create and share with your followers, the better chance you have of connecting with brands or people that can help to further expand your opportunities.
7. Selling Info graphics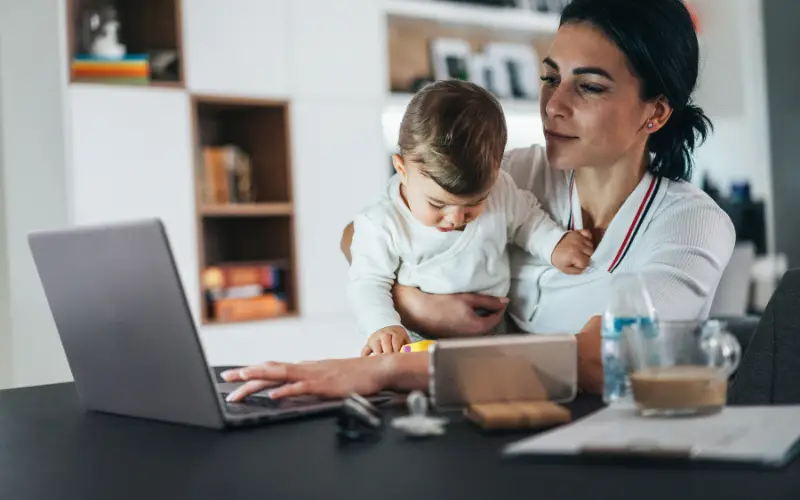 Info graphics are visually appealing pieces of content or information that can be shared on social media or used to attract customers to a website. By creating info graphics and selling them to businesses, stay-at-home moms can earn a passive income, while still being able to work from home. With a bit of creativity and marketing, moms can turn their info graphics into a full-time business that helps them balance work and home life.
Brand owners, influencers, teachers, businesses, and so many other individuals are always looking for creative content and content calendars that stand out from the rest. As a stay at home mom, you create personalized or editable info graphics and templates, that include helpful information and visuals. Selling these pieces of content on websites like Etsy, Teachers Pay Teachers, Fiverr or Upwork is an easy way to make money while still being able to take care of the kids.
8. Selling EBooks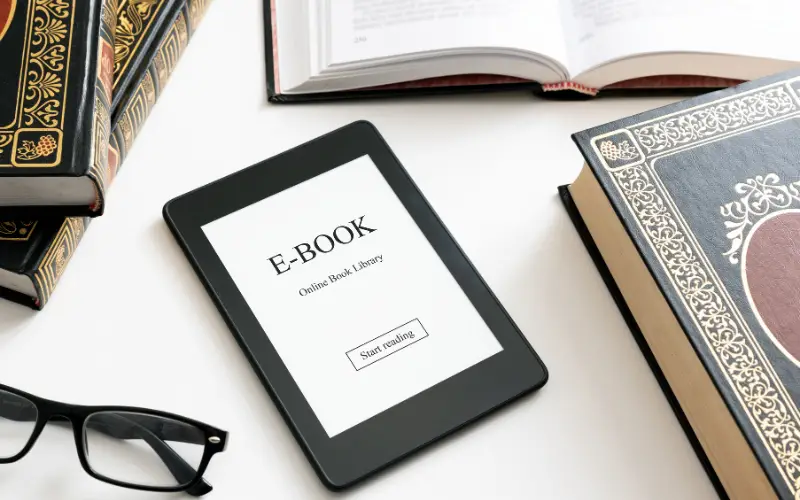 With the rise of self-publishing platforms such as Amazon Kindle Direct Publishing and Barnes & Noble Press, it has never been easier to get started on the path to becoming a successful author and entrepreneur.  Not only is it a convenient way to make money from home, but it also allows moms to share their knowledge and expertise with others. By writing ebooks on topics they are passionate about or have experience in, stay at home moms can create a passive income stream that can eventually turn into a full-time business.
Ebooks can be written on any topic, from cooking to parenting to DIY projects, and can be sold on various online platforms such as Amazon or Etsy. The great thing about selling Ebooks is that once it's published, it becomes an evergreen source of income that can continue earning for years to come.
9. Participating in Online Surveys and Focus Groups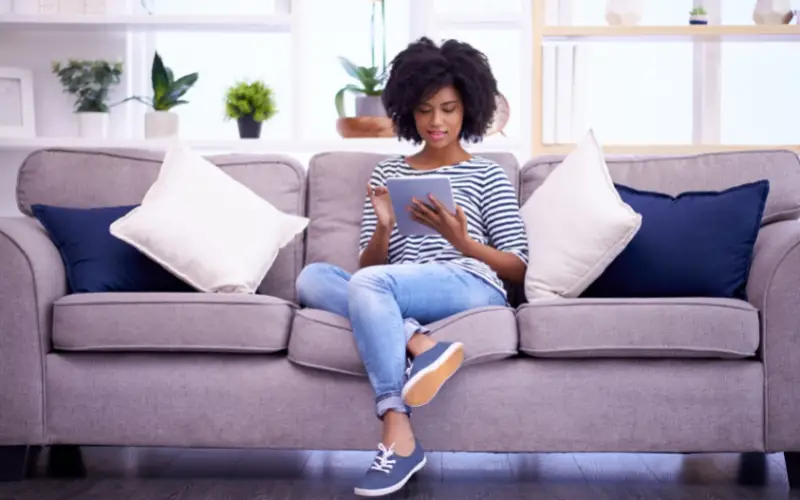 Participating in online surveys and focus groups is a convenient way for stay at home moms to earn a little money while still taking care of their children. These opportunities allow them to provide feedback that can shape the development of new products or improve existing ones. So whether you want to earn a little extra cash or simply share your thoughts on products and services, participating in online surveys and focus groups is an excellent way for stay at home moms to make a difference and get paid for it.
In order to find survey or focus group opportunities, moms can search online and join websites like Survey Junkie or YouGov. Most of these sites will require you to create a profile and fill out some basic information about yourself in order to get started. Once you're approved as a participant, you can take surveys for companies in exchange for points that are redeemable for cash or gift cards.
10. Investing in Real Estate or Stocks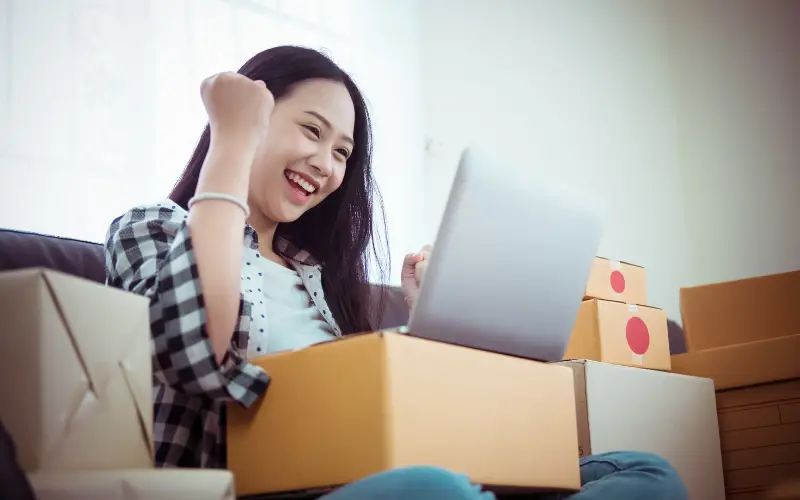 Investing in real estate or stocks can provide a source of income that allows moms to enjoy the flexibility and freedom of staying home with their children. Real estate investments can include rental properties or even house flipping, while stocks offer diverse options ranging from low to high-risk portfolios. Real Estate Investment Trusts (REITs) are one of the most popular ways to invest in real estate. With REITs, you own a share of a property and receive dividends from the rent it generates.
On the other hand, the stock market provides an opportunity to invest in companies and earn profits from their growth over time. As a stay-at-home mom, you can diversify your investment and find a balance between real estate and stocks. It requires adequate research and knowledge, but with dedication, you can grow your investment portfolio and increase your income as a stay-at-home mom with time.
Conclusion
Being a stay at home mom, and still being able to provide for them can be difficult. However, there are many resources out there that allow stay at home moms have an opportunity to make some money while still allowing them to spend time with their families. This article explored 10 different ways that stay at home moms can make extra income without sacrificing time with their kids or missing out on important events.
Being a stay at home mom doesn't have to mean sacrificing your financial freedom. With creativity and knowledge of the right resources, you can make money while staying within your comfort zone. Don't let fears or doubts about your ability to manage both motherhood and an income put a hold on achieving the financial goals you have for yourself. 
Hopefully by taking these tips into consideration, you will feel more confident in making money while staying home with your family. If you're looking for even more ways to make extra money from home as a stay at home mom, be sure to subscribe to our newsletter! We'll continuously provide helpful articles filled with information related to motherhood so you can get the most out of your stay at home mom experience!